There's a buzz about this jam!
Since 2008 wee have been creating artisan jams in northern Michigan specializing in high fruit premium products. Wee pride ourselves in supporting local farmers and organic gardeners that produce their fruit the way nature intended. Wee also hand pick wild berries in season including thimbleberries, blackberries and blueberries.

Our jam has no preservatives, just pure and natural ingredients, fruit, sugar and sometimes pectin and/or spices.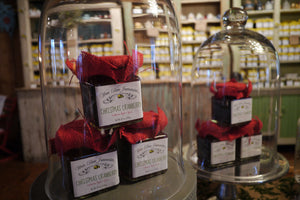 Made with Love in MI
What makes our jam distinctive is our passion for creating superior quality jams in a variety of traditional flavors and not so common fruit combinations. Our jams are packaged in 10.5 oz. square gourmet jars and topped with our banded label. An appealing package filled with quality preserves.
Wee also have our own honey bees and use organic methods in harvesting our honey. Our honey is unpastuerized and lightly filtered leaving all the beneficial elements intact.
Our Storefront
Wee carry pottery, jewelry, candles, vintage, a variety of Michigan food items and many other great artisan finds. Come in for a fresh cup of coffee and sit a spell……... Stop by and see us!
MORE INFO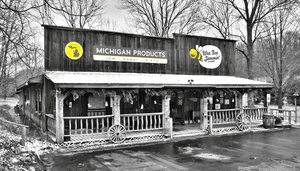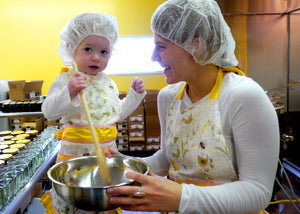 Why is our jam & honey so good?
It's a labor of love and happy hearts! Wee have a strong passion for what wee do, our product names are light hearted and wee're having fun. Wee hope you'll join us along our jam journey!
Wee also wholesale our products and offer institutional sizing for cafe's and restaurants. Please email or call us for more info.
Wee Bee Jammin'..... spreading a little happiness one jar at a time!
Shop Jams
Our store
8925 Norconk Rd.
Bear Lake, MI 49614
Summer Hours
Memorial Day Weekend-Labor DayMonday-Saturday 10-6
Sunday 12-4
Closed Holidays
Seasonal Hours
Labor Day-The Weekend Before ChristmasFriday & Saturday 11-5
Sunday 12-4
Closed Holidays

By appointment:
please call 231-510-9500
Come in anytime wee are making jam!
News
---
Your store hasn't published any blog posts yet. A blog can be used to talk about new product launches, tips, or other news you want to share with your customers. You can check out Shopify's ecommerce blog for inspiration and advice for your own store and blog.
Recipes
---
  4 servings Ingredients: 1 lb. sweet potatoes, thinly sliced 4 boneless chicken breast halves, about 2 pounds 1 9 oz. jar Wee Bee Jammin' Christmas Cranberry Jam 1/4 cup...
  Makes 12 crepes. Ingredients: 1 1/2 cups all-purpose flour 1 tbs. sugar 1/2 tsp. baking powder 1/2 tsp. salt 2 cups milk 2 eggs 2 tbs. melted butter 1/2...
  Makes up to 16 waffles. Ingredients: 1 1/2 cups all-purpose flour 1 1/4 cups whole-wheat flour 1/3 cup sugar 2 1/2 tsp. baking powder 1  1/2 tsp. pumpkin pie...